Hi! I'm Roger Alix-Gaudreau, aspiring author.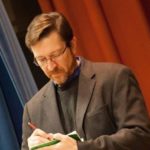 Currently, my "day job" is as a senior engineering leader at Tripadvisor. Maybe you've heard of them. They provide a platform for travelers to explore options for travel, plan trips, exchange information about their experiences, and review places they've been and things they've done. But, I presume you're not here to read about the job that pays the bills.
This site is dedicated to my dreams of writing. I have long wanted to be a professional writer, but I never really gave myself permission. I dabbled in game writing back in the late 1990's (and I suppose I should post a list of those works, for folks who are interested), but I chose to embrace a corporate software engineering career for the stability. Little did I know that software has its own stability problems! (Is that an unintended pun? A double entendre? Maybe both?) I have been fortunate, though, and I've had a 25-year software career that has allowed me to do a lot of fun and exciting things. Now, one of those things is fully embracing writing.
By "embracing writing," I mean diving into creating fiction, as opposed to copywriting, technical writing, or other forms of word-slinging that can provide a steady paycheck. I want to invent worlds, tell stories, and explore truths about being human inside completely invented realities. Theater and fiction writing are similar in this regard – the material is fictional, but it expresses truth.
At the time of writing this, I am just getting started on this journey. I've taken a set of Coursera classes that got me back into the swing of things and taught me some core principles. I've enrolled in an MFA program in Creative Writing in which I will focus on writing speculative fiction novels. I'm working on developing a habit of writing something every day, and it seems like more ideas emerge spontaneously from the old gray matter each week. In short, I'm feeling good about this, and I'm excited to see what the next few years bring.
I'm keeping my day job at Tripadvisor, though. That steady paycheck is pretty handy…